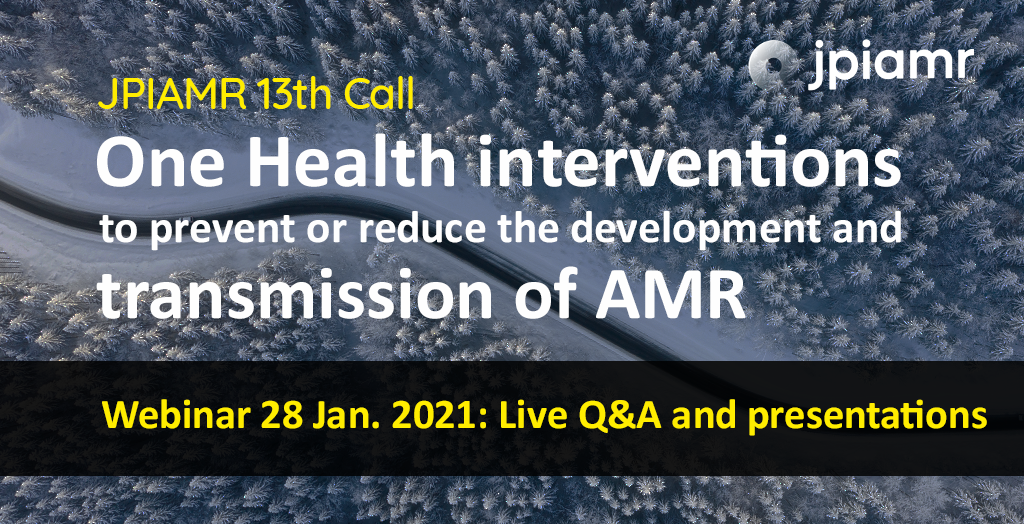 JPIAMR is pleased to invite researchers to a live webinar presenting the call "One Health interventions to prevent or reduce the development and transmission of AMR" and the partner search tool. Representatives from funders participating in the call will be available to answer questions, such as:
- How do I apply and how does the funding work?
-How can I find and create research collaborations?
-For researchers in Africa, Southeast Asia, Latin America and beyond. How do I apply for funding?
-What is JPIAMR and how do I know if I can apply for funding in this call?
Date and time: 28 January, 2021 at 15.00 CET
Read more and register to the webinar: https://invajo.com/l/IxlLhJbppQ
Visit the call webpage: www.jpiamr.eu/interventions-and-transmission-call-2021/
Partner Search Tool launched for the 13th JPIAMR Joint Call
A match-making tool has been created for applicants, to facilitate networking and the creation of consortia. The tool can be consulted for several purposes:
Partner looking for project: As individual researcher or a representative of a lab or research team, searching for a project to join.
Project looking for partner: If you want to build a consortium around an existing project and want to find partners for your project ideas.
Find and use the tool here: https://ncn.gov.pl/partners/amr13th/