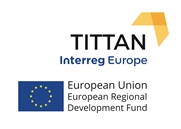 The overall objective of TITTAN Interreg Europe project (Network for Technology, Innovation and Translation in Ageing), is to tackle the challenge of active and healthy ageing by improving the quality and performance of the European regional healthcare systems. Partners from 7 European regions: Galicia (lead partner), Basque Country, Scotland, the city of Almere, Lombardy, Saxony and Lower Silesia participate in the project.
The Final Conference is one of the most important milestones for the Interreg Europe projects. Unfortunately, due to the current circumstances due to Covid-19, we will carry out our dissemination event online.
The Conference aims at communicating the outputs, the results, and the impact of TITTAN in all the partner regions during the project's implementation to stakeholders and other relevant policymakers.
The High-level dissemination event of the TITTAN Interreg Europe project will be held online on 1 December 2020, 12:00 - 14:15 CET.
For more information: https://www.interregeurope.eu/tittan/news/news-article/10174/high-level-dissemination-event-of-the-tittan-project/