INTERREG EUROPE – TITTAN: Network for Technology, Innovation and Translation in Ageing
The INTERREG EUROPE 2014-2020 Programme  aims at strengthening the effectiveness of regional development policies and programmes, in particular the programme included in the "Investments for growth and employment" objective (for example POR FESR / FSE) and the programs under the "European territorial cooperation" objective (CTE). 
The Programme therefore encourages the collaboration and the exchange of ideas and good practices between public authorities throughout Europe in order to find solutions for the improvement of policies and strategies to the benefit of European citizenship.
The project TITTAN   (Network for Technology, Innovation and Translation in Ageing) aims to tackle the challenge of an increasingly aging European population  by making regional health systems more efficient, in order to promote healthy and Active ageing. 
This goal will be achieved through the exchange, the benchmark and the implementation of "good practices" among the 7 participating European regions in developing policies that can foster the design, up-taking and use of innovative technology-based products/solutions  .
The TITTAN approach is focused on 3 Thematic Areas (TAs): how to uptake innovative health products/services through new public procurement practices (PCP and PPI); how to promote the establishment of innovation ecosystems in the health sector; how to raise citizen´s awareness about using new technologies for improving quality of life.
FRRB, project partner, through the continuous dialogue with the most important local stakeholders, supports the Lombardy Region in the exchange of policies and good practices with the other project partners and the respective stakeholders.
Consortium Partnership: 7organisations from 6 European countries (Spain, Italy, Germany, United Kingdom, Holland and Poland).
Visit the official project page at the following link: https://www.interregeurope.eu/tittan/
ONLINE THE PRESENTATION VIDEO OF THE TITTAN PROJECT AT THE FOLLOWING LINK: https://www.youtube.com/watch?v=aemM3EaJ0ys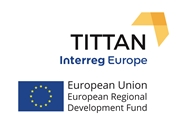 | Description | Period |
| --- | --- |
| Project start date | 01/04/2016 |
| Project end date | 31/03/2021 |
| FRRB Amount | Euro 184.182,00 |